Fracking matters
Dr Jo Veltman is a Norwich paediatrician, and co-founder of local action group CHAIN (Climate Hope Action in Norfolk). She is passionate about inspiring people to consider ways to be agents for positive change. She opens our blog with a series on fracking. Friend or foe?
---
CHAIN stands for Climate Hope Action In Norfolk and looks to support climate protection initiatives nationally and globally as well as from our local area.
So why would we not be a fan of hydraulic fracturing, or 'fracking', when our Government and the industry are telling us it is the climate-friendly way to transition to a clean energy future?
We are told that gas is 'clean', with only half of the CO2 emissions of coal. That fracking will create jobs and provide secure energy for the UK. That regulations in the UK are more stringent than anywhere else in the world... and that fracking can be done safely.
It's going to take more than this short blog post to present a comprehensive and (I hope) accessible look at the evidence of why I, like many others are extremely concerned about our country's current 'dash for shale gas'. This is merely an introduction to a series of CHAIN blog posts "Fracking Matters" over the next few weeks.
We are unlikely in Norfolk to be troubled by fracking in the near future but I believe it is crucial that there is a national conversation about shale gas, and quickly.
---
In the next few days, North Yorkshire County Council will decide whether to move forward with Third Energy's application to test frack close to the rural village of Kirby Misperton in Ryedale, on the borders of the Yorkshire Moors.
It is anticipated that, if successful, the application would open the floodgates to fracking throughout much of Yorkshire and Lancashire as well as in other areas of the country.
Ryedale is beautiful.
Local people are very concerned about impacts on the environment, water supply, public health and communities. There are also serious economic concerns. The area is dependent on farming and tourism.
Additionally, one fifth of the 'PEDLs' (Petroleum Exploration & Development Licenses) in the UK lie in areas at risk of flooding. This area of Ryedale is at medium and high risk of flooding, according to the Government's own Environmental Agency. You may remember the floods suffered by Yorkshire at the end of last year and a simple internet search will show you the devastating consequences of a combination of fracking in flood risk areas: Colorado & Texas are two examples.
Emotions are running high in local communities and the protesters have been dismissed by Government and Industry as being "ill-informed" and "scare-mongering". However, there is overwhelming evidence that people's concerns are legitimate and on many different grounds.
Many UK doctors (myself included) are seriously concerned about the public health risks of fracking and have been appealing to the Government for a UK fracking moratorium. There is also substantial evidence that the climate impacts of fracking have been grossly underestimated.
As well as health concerns, local communities are at risk from a complete change in the character of the places they live, with industrialisation of the countryside, import of a predominantly male work force, heavy traffic, crime rates, effects on house prices... the list goes on. Newly-introduced Government legislation is taking decisions increasingly out of the hands of local councils and people, which raises other questions about our democracy.
---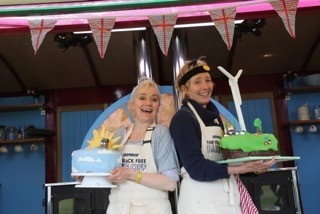 Along with Friends of the Earth UK and others around the country, CHAIN are this weekend celebrating 5 years of a "frack free England".
Inspired by the awesome "Frack Free Bake Off" by Emma and Sophie Thompson with Greenpeace in Lancashire recently, we are having a bit of a party at The Missing Shoe on Saturday, 21 May 2016.
To join in the fun and find out more about fracking come along to The Missing Shoe cafe from 10am. There'll be plenty of cake... and everyone is welcome!
(Dr.) Jo Veltman, CHAIN
16th May 2016